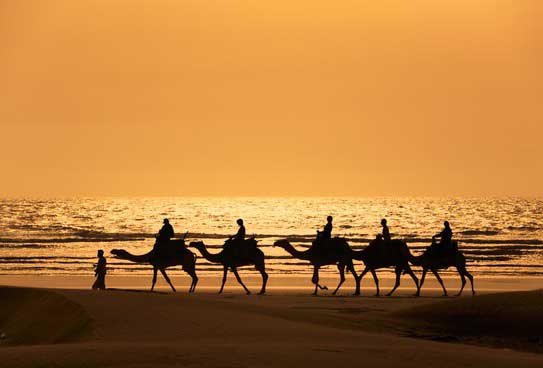 Extreme holiday activities and holiday adventures abroad are on the rise. Not just content with soaking up the sights and sounds of the chosen destination, holidaymakers want more out of their trips abroad. But the risks taken should only extend to the fun and adrenaline rush that come with it.

The holiday travel insurance industry acknowledges that memorable holidays are made up of fun and adventure, and thus has made available products that take the risk out of those activities that include an element of danger.
Some extreme adventure activities require specialist policies that may have a slightly higher premium than the standard travel insurance product, but the cover purchased is invaluable and worth the cost should you need it.
Here are 5 activities you didn't think travel insurance would not cover:
1. Personal encounters with marine life
Some travel insurance providers can offer cover for marine life adventures such as shark diving and swimming with dolphins. Belonging on the list of more spectacular holiday adventures, shark diving is as thrilling as it sounds and allows a closer personal experience with the awe-inspiring marine predators. While swimming with dolphins may not be deemed as dangerous as sharks, there is still an element of risk which needs to be covered.
2. Camel riding
Whether you're headed to the desert in Morocco or Egypt or the Outback in Australia you can enjoy the spectacular view and perspective as that only from the back on a camel can provide.
3. Ice diving
Considered as one of the most dangerous holiday adventure activities, ice diving is performed on solid frozen lakes. Holes are cut in the ice and divers swim on a leash into the icy waters. A number of risks are associated with the activity even though experts are at hand to jump in if the situation calls for it.
4. Bull running
When in Pamplona … If you've ever fancied yourself running with the bulls, there is travel insurance to make your dream come true. The dangerous yearly running with the bulls celebration with its rich historical significance has become a popular attraction for travellers across the globe.
5. Cave tubing
Cave tubing presents a different perspective from which to explore caves and caverns. Seated in rubber rings, you float deep into the caves while having a rope to help steer you through the water. Cave tubing is often the only effective way to appreciate some of the world's most ancient caves and caverns.
To find out if your chosen list of adventure activities fall under the protection of holiday insurance cover, speak to your insurance provider first. Not all insurance companies cover the same activities.
Know that in order for a claim to be valid, you will need to adhere strictly to all the safety guidelines and procedures outlined specific for that activity.
To find out if your activity is covered by your travel insurance, call or email your travel insurance broker today.
https://www.easytravelinsurance.co.za/wp-content/uploads/2014/12/camel_riding.jpg
368
543
Ryan Smethurst
https://www.easytravelinsurance.co.za/wp-content/uploads/2018/01/eti_web_logo.png
Ryan Smethurst
2014-12-30 08:42:11
2015-03-16 14:42:37
5 Activities you didn't think travel insurance would not cover