Travel Insurance: missed flight saviour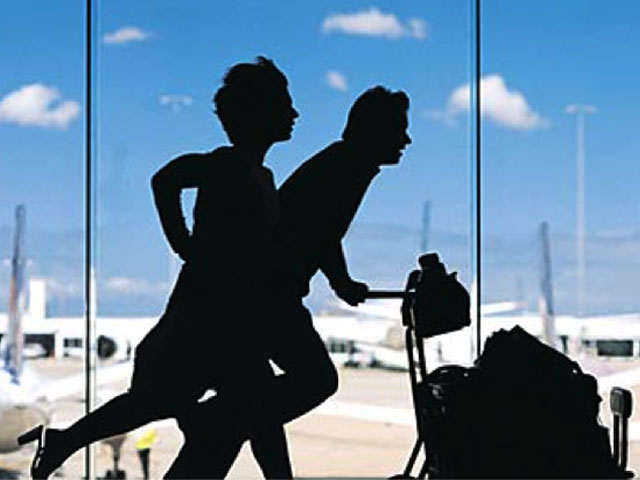 For Sarah Jane her long-awaited trip to Egypt was more than just a dream holiday – it was an investment. An investment of time, money and an experience of a lifetime before her. Ever since the age of eight when her father used to read to her bedtime stories of the wonders of ancient civilizations like that of Ancient Egypt and the Pyramids, her love for mystery and history grew.
It does not then come as a surprise that when the 27th of August dawned, Sarah Jane was brimming with excitement. In fact she could hardly sleep the night before. It was the day she was to fly out to Cairo with her cousin Anne for a week of thrills soaking up the atmosphere and magic of the Pyramids. Their travel itinerary was equally adventurous. "It was out of desperation that we chose to fly to Cairo with connecting flights from Heathrow to Istanbul to Cairo. We knew that we were taking a risk with stop over flights, but the tickets were at a price we could afford," Sarah Jane recalled once back home again.
All went well until for the adventurous pair up until they landed at Istanbul Atatürk Airport. The girls had a four hour wait before they boarded the next flight out to Cairo International Airport so they decided to explore a little of Istanbul's delights. When they arrived back at the airport they were a little alarmed at the sight of huge crowds carrying placards obviously in protest. The girls later learned that an unplanned strike action had been suddenly organised. Baggage handlers were up in arms over unfair working regulations. While the girls were in sympathy with the striking workers, they were concerned about what that meant for their connecting flight.
Sarah Jane and Anne missed their connecting flight to Cairo. It was not an ideal situation but Anne knew that their travel insurance with Easy Travel Insurance was going to be their saviour. Even though their missed flight was due to strike action, they would be covered as the strike action was not common knowledge when they had made their travel bookings. What Sarah Jane did not know was that Anne had scheduled their connecting flight to Cairo. This was foresight on Anne's part or else they would not have been covered. Anne was a little more travel savvy of the two having completed work experience at a travel agent's during high school.
Travelling requires great financial expense and taking out travel insurance minimizes the financial risks considerably. Peace of mind can be had in unplanned eventualities of accidents, medical emergencies, lost baggage, terrorism, missed flights, cancelled tours and emergency evacuations.
Sarah Jane was convinced that investing in travel insurance was the best decision the girls had ever made. She was very grateful to her cousin, "She was most insistent that we take out comprehensive travel insurance, just to cover us in case of an eventuality. Anne suggested we go with Easy Travel Insurance. I'm glad we did."
https://www.easytravelinsurance.co.za/wp-content/uploads/2013/06/Missed-Flight.jpg
480
640
Shair Osman
https://www.easytravelinsurance.co.za/wp-content/uploads/2018/01/eti_web_logo.png
Shair Osman
2013-06-25 19:12:15
2015-03-16 15:21:29
Travel Insurance: missed flight saviour